Sister Mary Ellen Lacy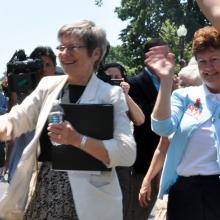 Hundreds of supporters were on hand to welcome home the Nuns on the Bus on Monday at the United Methodist Building in Washington, D.C. The sisters completed their nine-state, two-week journey for faith, family, and fairness in the federal budget.
"Some Catholic politicians are pushing budget cuts that violate Catholic social teaching," said Sister Simone Campbell, executive director for the Catholic lobbying group NETWORK. "And they jeopardize the Catholic sisters' effort to really help struggling families, to practice the values of the Gospel by serving the poor and vulnerable."