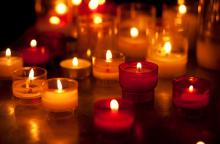 Funeral services will be held today for the six Sikhs killed at a Wisconsin temple last Sunday. The bodies of the deceased will later be cremated —  but their souls will live on, Sikh tradition teaches.
Sikh scriptures don't dwell on what happens after death. Instead, the faith focuses on earthly duties, such as honoring God, performing charity and promoting justice.
"The afterlife is not a primary concern," said Gurinder Singh Mann, a religious studies professor at the University of California-Santa Barbara. "It's a very life-affirming belief system."
Still, like many religions, Sikhism includes intimations of immortality.
Founded in 15th-century India, Sikhism was born in the same cradle as Hinduism and Buddhism, both of which posit reincarnation. Like those faiths, Sikhism teaches that the goal is to escape from the cycle of death and rebirth.
But unlike Hindus and Buddhists, Sikhs believe that humans can't liberate themselves through meditation and virtuous living — only God's grace offers freedom from rebirth.
"We don't think that, 'Well, I've done these wonderful things, I get a ticket to heaven,'" said Mann. "That's a divine decision."