shelters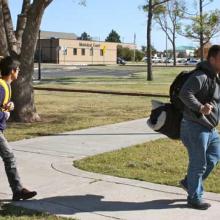 NORMAN, Okla. — Pastor Dustin Buff traded in his job, his house and his sense of security for a backpack, a Bible, a sleeping bag, one change of clothes, identification, and a cell phone.
For 10 days, Buff and youth minister Philip Nguyen were intentionally homeless, wandering the streets of Norman in a personal quest to understand the plight of the homeless.
Andrews Park, a mile and a half from the University of Oklahoma, is a temporary home to many of the city's homeless. Buff estimates 300 people live on the street in this city of 113,000. In the park, the homeless gather in gazebos, sleep in faux forts on the playground, and lounge on the steps of the amphitheater.
Buff pointed to the municipal buildings that ring Andrews Park.
"All the city offices are right there," he said. "Homeless people are sleeping here at night right across the street from the police station. I've read government estimates that Norman has 1,700 homeless residents, if you include transient housing, shelters, and the streets."