shelby county, alabama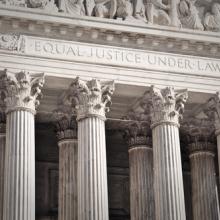 Our country's laws represent our values and our moral compass as Americans. They set norms, define transgressions, and mete out consequences for actions. And almost 50 years ago, our nation realized the harassment, intimidation, bureaucratic shenanigans, and violence so many African-Americans and other minority communities experienced when trying to exercise their rights to vote and participate in our great democracy. Our intolerance of such injustice led to the passage of the Voting Rights Act of 1965 — a great triumph in the defense of life, dignity, and equality.
Notwithstanding the near-universal praise the Voting Rights Act has received for ending some of the most overt discriminatory practices in our country's voting history, there are some saying the Voting Rights Act's time has passed. In fact, on Wednesday, the Supreme Court will hear oral arguments from Shelby County, Ala., that a key provision of the Voting Rights Act is unconstitutional and should be struck down. These arguments are misguided. The Voting Rights Act remains a vital piece of our national moral commitment never to permit racial discrimination in elections again.