Sharpton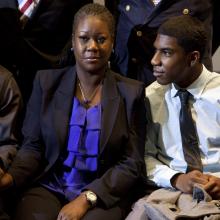 Authorities in Florida have charged George Zimmerman, 28, with 2nd-degree murder in the shooting death of unarmed Trayvon Martin, 17, in Sanford, Fla., in late February.
The charges, announced by special prosecutor Angela Corey, at a news conference in Jacksonville, Fla., Wednesday evening, come six weeks after Zimmerman, a self-appointed community watch "captain" in a gated Sanford community where Trayvon was visiting his father on Feb. 26, shot the teen -- who was armed only with a cell phone, a can of iced tea and a packet of Skittles -- in what the shooter claimed was self-defense under Florida's "Stand Your Ground" law, which allows victims to use deadly force against an attacker if they believe their lives are in danger.
President Obama hosted his third annual Easter prayer breakfast for about 150 members of the clergy from across the nation in the East Room of the White House Wednesday morning. In his six-minute address, Obama reflected on the spiritual messages of Easter -- Jesus' triumphant overcoming of his own human doubts and fears so that all of humanity might do the same.
"For like us, Jesus knew doubt," Obama said. "Like us, Jesus knew fear. In the garden of Gethsemane, with attackers closing in around him, Jesus told His disciples, 'My soul is overwhelmed with sorrow to the point of death.' He fell to his knees, pleading with His Father, saying, "If it is possible, may this cup be taken from me." And yet, in the end, He confronted His fear with words of humble surrender, saying, "If it is not possible for this cup to be taken away unless I drink it, may your will be done."
"So it is only because Jesus conquered His own anguish, conquered His fear, that we're able to celebrate the resurrection. It's only because He endured unimaginable pain that wracked His body and bore the sins of the world that He burdened -- that burdened His soul that we are able to proclaim, 'He is Risen!'"