Seven Days in Utopia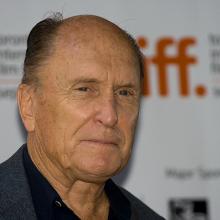 Many cinephiles have a short list of virtuoso actors who are so graceful and true we'd watch them read a phone book. For me, the list includes Jeff Bridges, Helen Mirren, Diane Keaton, John Mahoney, Christopher Plummer and that great icon of American cinema, Oscar-winner Robert Duvall.
So when a publicist for Seven Days in Utopia contacted me recently about the Christian-themed film and asked whether I'd like to interview Duvall, I jumped at the chance. A loudhailer of a film, long on message and cliché but woefully short on subtlety or artistry (save for Duvall's charmingly folksy performance), Seven Days in Utopia — set in rural Texas, it's an exploration of redemption and golf — is not a flick I'm going to be urging you to run out and see or rent, unless you, like me, would watch Duvall read the proverbial White Pages.
In the film, which opened in theaters last fall and was released on DVD at the end of last year, Duval plays Johnny Crawford, a golf-pro-cum-cowboy who helps a young pro golfer, Luke Chisolm (Lucas Black), reclaim his game and his faith. Duvall's Johnny is like Yoda with a five iron and hearkens back to many of the archetypal characters the Oscar-winner (who turned 81 years old last week) has played throughout his storied career.
Duvall, who began his career on the New York stage in the early 1960s (as a struggling young actor at The Neighborhood Playhouse School of the Theatre, he roomed with fellow students Dustin Hoffman and Gene Hackman), has appeared in some of the most spiritually eloquent films of our time, often playing the role of ersatz sage and spiritual counselor. He is a workingman's working actor with about 150 performances in film and television productions under his belt buckle since his premiere in an episode of the Armstrong Circle Theater television series in 1959.
From "Boo Radley" in 1962's To Kill a Mockingbird and "Tom Hagen" in The Godfather (parts 1 and 2) or "Lieutenant Kilgore" in Apocalypse Now and "Bull Meechum" in The Great Santini, to "Mac Sledge" in Tender Mercies (for which he won the best actor Academy Award) and "Gus McCrae" in Lonesome Dove or "Wayne Cramer" in Crazy Heart and "Felix Bush" in Get Low, Duvall has created indelible characters who are authentic, honest and transcendent.