serpents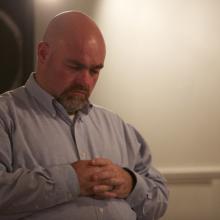 The death of Jamie Coots could be read as just another bit of evidence that the universe doesn't much care what you believe. Physics, biology, geology — all perk along with or without our assent.
Coots may have been the most famous of America's snake-handling Pentecostal preachers. He was featured last year in a reality show called Snake Salvation. He died after being bitten by a rattlesnake during the regular Saturday service.
According to a report in The Wall Street Journal, this was the ninth time he'd been bitten.
The Rev. Jamie Coots, a serpent-handling pastor and co-star of the Snake Salvation reality television show, died Saturday after snakebite during a church service. He was 42.
Coots, pastor of the Full Gospel Tabernacle in Jesus Name in Middlesboro, Ky., was found dead at his house around 10 p.m.
Coots had been bitten at the church, Middlesboro Police Chief Jeff Sharpe told WBIR television in Knoxville, Tenn. Sharpe said emergency workers went to the church and to Coots' home but he refused medical care.