serpent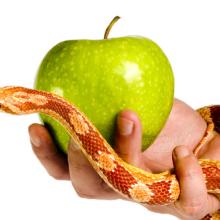 A couple hours ago on Facebook, Catherine posted that she had just seen a snake on her hike. As her pastor I thought it best to reply, "If it starts talking, don't listen"
This likely came to mind since I was editing this very sermon about Adam and Eve. The story of the Garden of Eden is what is called an origin story and every culture has theirs. Origin stories tell us how the world came about and where we came from and other important things like why snakes don't have legs. We think we might know our origin story really well, but in the Genesis account of the Garden of Eden, there actually is no mention of sin, or a fall, or Satan, or temptation, and I hate to break it to you but there wasn't even an apple involved. Which means the cultural understanding of the story of the Garden of Eden is slightly corrupted. This is due in part to the countless paintings throughout the history of Western art which for some reason portray a tree and a snake and an extremely white Adam and Eve holding a Red Delicious.
See, for generations folks have called the tale of Adam and Eve and the serpent and the forbidden fruit "The Fall from grace" or "The story of Original Sin."
That's a little weird to me. Like, God created the heavens and the Earth and animals and it was like, this awesome all-inclusive primeval club-med for Adam and Eve – they ran naked through the warm sunlight of an idyllic paradise and everything was theirs for the taking – except for that one tree that they were told to steer clear of. And this absolute paradise in the garden between God and Humanity lasted approximately 20 minutes. Until Eve had a chat with a talking snake and then disobeyed God and ate the forbidden fruit. And because Eve, ate some fruit she was told not to, now all of humanity is cursed and this so-called original sin of Eve's became sort of like a sexually transmitted disease.
Because now, according to this version of what the story is about, every person born after that inherited original sin from Eve. That's right. Eve messed it up for everyone by eating some piece of fruit God told her not to. Which feels kinda unfair to her and kinda unfair to us. But this is what we are told the story is about.