Sept. 11, 2001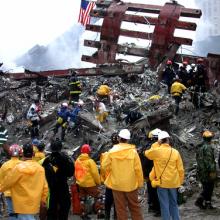 I was home sick on Sept. 11, 2001. Amy had left for her grad school classes, so I was a little bit annoyed when she burst back in and woke me up.
"Turn on the TV," she said. "Something bad is happening. Really bad."
While watching the replayed video of the plane colliding with the first tower, the second tower attack came. And then there were the reports of similar attacks at the Pentagon and in Pennsylvania. At that moment, we had no idea when the bad news would stop coming. My first thought was for those loved ones I have in bigger cities, praying that they would not find themselves in harm's way.
We watched the reports in silence for a few hours, trying to sort out what had just happened. Of course, there were no certainties about the attacks being over, but by now all planes had been grounded, and the American military was on high alert.
"I'm not sure how much more of this I can watch," I told Amy, realizing it was nearly noon, and I was still sitting on the couch in my underwear. "We should try and do something."
"Everything is closed," she said. "Churches will probably have prayer services later, but not until tonight." The zoo was the only thing we could find that was still operating, so we decided to go spend some time among some less self-destructive animal species. We settled by the gorilla habitat, where one lazy silverback leaned against the other side of the glass, just inches away from us. Though they usually tend to turn their backs to human observers, he was staring right at us. He seemed to be just on the verge of speaking:
What the hell is the matter with you people?