secession
Let the healing begin (maybe next week).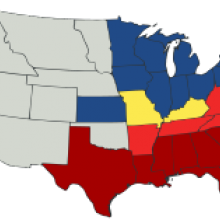 Corruption has gone too far. The righteous must break away. Hope now rests with a holy remnant that will honor foundational texts.
The message sounds familiar. A church schism? No, mounting calls for secession from the United States.
Since President Barack Obama won re-election, more than 750,000 Americans have petitioned the White House website to let their respective states secede, from Alaska to Iowa to Maryland and Vermont. Those leading the charge are framing it, observers say, in terms that suggest a deep-seated religious impulse for purity-through-separation is flaring up once again.
But this time, it's playing out on a political stage.
"Today's secessionist movements are just the latest example of a long parade of breakaway groups [in American history] seeking to restore some lost ideal," said Peter J. Thuesen, professor of religious studies at Indiana University-Purdue University Indianapolis. "The problem is that the ideal is invariably a mirage."