sea level rise
Today, many of you will remember to celebrate me, learning or teaching your children about the importance of reducing waste and recycling, conserving energy, or keeping my land, air, and water clean. I truly appreciate the efforts you make for a struggling old lady for whom such acts of consideration bring rays of hope. As you know, my health has been deteriorating rapidly of late, and I struggle to care for all 7 billion of you as I would like. I long to give you sweet, fresh air to breathe, clean water for drinking and bathing, fertile soil for growing food, majestic mountains to revitalize your souls, and much, much more. But I am not the girl I used to be, and much of what I had to give in my youth has been spent faster than I ever could have imagined. So please accept this letter as an expression of my affection; I wish I had more to give.
I am reaching out to you, my children, because I know you love me and I know you need me. Some of you try hard to care for me and nurse me back to health. I value all of your efforts. But there is something I need from all of you that is far too often overlooked when it comes to the care I need to survive. For the truth is, I am dying. Your Father cares for me but has also entrusted me to your care, and thus my hope for a future lies in you. So I am pleading with you, my children, to remember me and remember our need for each other. And I have an urgent request of all of you that could perhaps do more to revitalize my health than anything else you could do, though I rarely hear it mentioned:
Stop killing each other!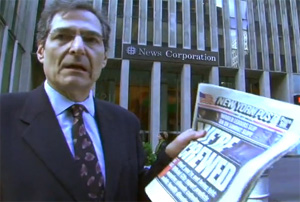 On Monday, millions of people received a "special edition" of The New York Post that told the truth: "We're Screwed." I guess only fake newspapers can print real news.
More than 2,000 volunteers of The Yes Men, a "culture jamming" group, distributed a fake edition of The Post in New York City....