Scot McKnight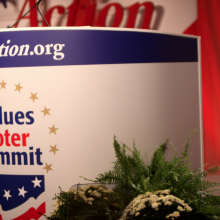 Christian conservatives who think Satan is using communism and Islam to bring down America can add a new "adversary" to the list: the Emergent Church movement.
A portion of the upcoming Values Voter Summit in Washington will stray from its usual focus on politics and consider the Emergent Church as one of three "channels the adversary is using to bring America down." Art Ally, president of The Timothy Plan, a Florida-based mutual fund company devoted to "biblically responsible investing," will lead the breakout session.
"Why would Satan use Communism? It's a godless form of government," said Ally. "Why would Satan use Islam? Same reason. It's not a religion. It's a movement to dominate the world under the guise of religion. The Emergent Church plays right into that by weakening further our church community."
There is, once again, a threat of a government shutdown. Congress, once again, can't get along. Even the most basic decision making has stalled as each party postures for their base.

But, it's almost Christmas and there a better and brighter things to focus on then the latest Rasmussen tracking poll.
I'd like to share some Advent reflections from my former professor at North Park University, Scot McKnight. He is in the midst of a series that points to what Advent is supposed to remind Christians of. It's a simple message with deep meaning: Jesus is King.