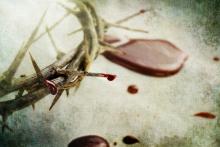 It baffles me when people who are deeply concerned about peace and peacemaking define themselves as "spiritual but not religious." In pursuit of personal and/ or global peace, they shun organized religion in favor of indigenous spirituality. Celtic music, eastern spiritual disciplines like yoga and meditation, and the Native American relationship with nature all seem so attractive and obviously non-violent. I actually have nothing against any of those expressions of spirituality – allow me to offer as proof the trip my husband and I will be taking in July. We will be touring Northern Ireland to enjoy the "storytelling, music, art and peace" of Celtic culture "ancient and new. Great food, inspiring art, and beautiful journeys on foot will form the heart of this soulfully unique and transforming experience." Sounds great, doesn't it?
Normally this sort of description would not entice me. It sounds vaguely new age-y, all too "spiritual but not religious." So why am I going? Because one of the tour leaders is my friend and brilliant cultural critic, the founder of the Wild Goose Festival, Gareth Higgins. Gareth understands that alternative forms of religiosity and spirituality are a necessary part of the revival of Christianity that is going on today, but he also understands that without "religion," the pursuit of peace is at a serious disadvantage.
I am aware that such a claim runs counter to the primary reason many people give for being spiritual but not religious. They blame religion for violence and war, and there is no denying that many people have killed in the name of their beliefs. Somehow those who abandon organized religion believe that the cure for violence is to purge themselves of religious texts and doctrines that have any reference to violence in them. Why read the Old Testament or believe in a God who requires the death of an innocent victim to be reconciled to us? How could that possibly lead to a more peaceful world?