sanford pD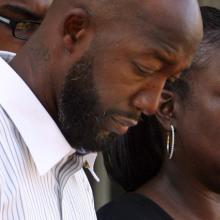 It's been almost a month since the slaying of Trayvon Martin. This particular African-American child was intentionally shot through the chest while walking back from the store in a Florida suburb. He was armed with a pack of skittles and some iced tea.
For the past few weeks, each time I open my Facebook account or scroll through Twitter I see endless posts about the Trayvon Martin case. And I've seen Trayvon's faceover and over again. He was 17 but he looks like a 15-year-old cousin of mine.
I have not written anything about this tragedy because to be honest, I have been unable to find my words around or through this. I could write about anger, injustice, racism, the loss of another black male child, crazy American gun laws or even the shock or actually lack thereof, of how the police initially handled this murder. But mostly what I want to write about is the deep, deep sadness and sorrow I cannot seem to shake.