Richard Lischer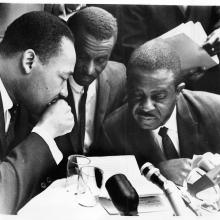 It may be the most famous speech of the 20th century.
Millions of American schoolchildren who never experienced Jim Crow or whites-only water fountains know the phrase "I have a dream."
And many American adults can recite from memory certain phrases: the Rev. Martin Luther King Jr.'s use of the prophet Amos' vision of justice rolling down "like waters and righteousness like a mighty stream," or the line about children being judged not by "the color of their skin but the content of their character."
To many in this country, "I have a dream" has a place of honor next to the Declaration of Independence, the Emancipation Proclamation and the Gettysburg Address. It celebrates the lofty ideals of freedom.
But scholars say it would be a mistake to celebrate the speech without also acknowledging its profound critique of American values.
Nearly eight years ago, professor Richard Lischer got a call on his cell phone that would tear at his heart and test his faith.
It was his grown son, a successful lawyer, telling him his cancer had returned.
The ensuing 95 days in which Lischer — a man used to offering pastoral advice to others — stood by his son, Adam Ewers Lischer, as he lost his battle to cancer is now the subject of an eloquent memoir, Stations of the Heart.
Grief as the subject of memoir is now commonplace. But this volume, written by a professor of preaching at Duke Divinity School, conveys not only the anguish of grieving families, but also offers testimony to a faith that is tested but survives.