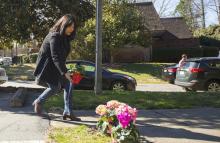 Preliminary police reports describe a long-simmering dispute over parking as the motive for the killings of three Muslim students at a Chapel Hill condominium Feb. 10.
But many Muslims in the Raleigh-Durham community and beyond are not so sure. The triple murders in this usually harmonious university town immediately took on a larger narrative of hate crimes against Muslims and charges of atheists baiting Muslims.
On Wednesday, police charged Craig Stephen Hicks, 46, of Chapel Hill with three counts of first-degree murder.
They allege he shot Deah Shaddy Barakat, 23, and his wife, Yusor Mohammad Abu-Salha, 21, and Abu-Salha's sister, Razan Mohammad Abu-Salha, 19, of Raleigh inside their condominium near the University of North Carolina campus in Chapel Hill.