The Rev. Thomas Reese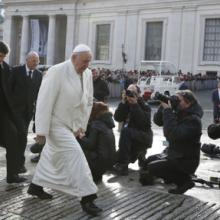 Did you hear that Pope Francis plans to call a Third Vatican Council? Or that he uncovered previously unknown Bible verses? Or that he sees the story of Adam and Eve as just a fable?
Here's the problem: None of it is true.
Still, that didn't stop these and other stories from ricocheting around the Internet and, in some cases, even in traditional news sources. Among the dozens of other fake pope stories are claims that he called hell a literary device and that he believes all religions are equally true.
The tide of fake pope stories has risen so fast in recent months that the Pontifical Council for Culture issued a stern warning on its Facebook page.
U.S. Catholic nuns — accused by Rome of "radical feminism" for advocating social justice at the expense of issues such as abortion, gay marriage, and euthanasia — responded to a Vatican knuckle rapping with a brief, conciliatory statement on Monday.
After its four-day annual assembly, the board of the Leadership Conference of Women Religious, which represents 80 percent of the nation's 57,000 sisters, emphasized the positive, and remained tight-lipped about negotiations to resolve the investigation.