the Rev. Fred Luter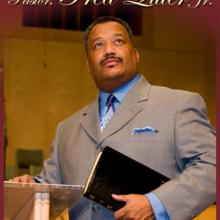 After months of urging from other Baptists around the country, the Rev. Fred Luter told his African-American congregation that he will seek to become the first black man to lead the predominantly white Southern Baptist Convention.

Several Baptist leaders said Luter becomes the prohibitive favorite for the post, to be filled in a potentially historic election at the Southern Baptists' annual meeting in New Orleans in June.

SBC Today, a Baptist-focused news website, carried the announcement on earlier this week. Youth pastor Fred "Chip" Luter III separately confirmed Luter's announcement to his church last Sunday.

Luter appears to be the first candidate to declare for the post, which will become vacant this summer when the Rev. Bryant Wright of Marietta, Ga., finishes his second one-year term.

Many began openly promoting Luter for the top job last summer, moments after he was elected the convention's first African-American first vice president.