reorientation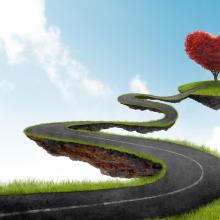 We've all heard the sidewalk preachers and TV Evangelists quoting the Gospels, telling us, "Repent, for the Kingdom of God is at hand!"
It's a claim that is generally intended to strike fear and trembling in the hearts of many. We're supposed to straighten up, do right, and atone for all of our heinous, sinful ways.
If you went to my kind of church growing up, there wasn't a sermon that went by that you didn't hear the pastor say something like, "The end could be today, tomorrow or next week. So you'd better beg for forgiveness, get right with the Lord, or risk getting 'left behind.'"
The season of Lent is a time of reflection and repentance, yes. But we've come to misunderstand both what it means to repent, and what Jesus is talking about when he foretells of God's coming Kingdom.
As for the latter, Jesus preached to some degree about the afterlife, yes. But his Kingdom-talk primarily was focused on us, on receiving and co-creating God's Kingdom vision for ALL of us, here and now, in our very midst. So rather than talking about some hellfire apocalyptic end-times, he's urging us to open our eyes, to see what's right in front of us.
We can have what he, what God, long for us. To live in a world inspired and living into the Kingdom possibilities just there, nearly within our reach if we'll only claim it and risk everything to fulfill it.
I'm going to tell you something I do not do very well. But, only if you will not tell the other mothers because I have listened to them talk, and apparently I am the only one not very good at this. Deal?
I'm not good at helping my children learn to feed themselves. I totally get in the way. Let me explain.
Well, actually, there isn't much about it to explain.
I don't like messes. So, I feed my children … for too long. I sit a bowl full of spaghetti in front of them, and I get a little panicky. I mean, have you ever found dried, crusted spaghetti noodles on the floor a week (or more) later when you're cleaning? And what about the slimy, greasy residue left on the plastic tray attached to the high chair? And then there's the highchair cover. I did not realize you could take that thing off to clean it until my second child was two. Wow. That was amazing — what I found under it, I mean.
Never mind the fact that most of the food gets on the child and everything and everyone else … not in their mouths.
And, I mean, I'm also very concerned about my child's dietary needs. Seriously, I think that is the biggest reason I insist on feeding them well into their third year. (Did I just write that?) They need me. They need me to spoon that mouthful of spaghetti straight into their teeny little mouth. That way I know where it goes — there is no guesswork.