religious tradition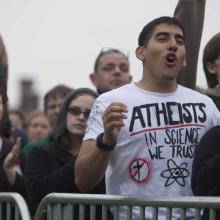 Meet John Q. Nones, a young, white male who is making a big impression on the American religious landscape for something he doesn't do: align with any religious group.
The rise of the religiously unaffiliated, or "nones," as documented in a new study from the Pew Forum on Religion & Public Life, has major implications for almost all aspects of American life -- from religion to business to culture.
Whether you believe the proliferation of Mr. Nones is a depressing or hopeful trend, it pays to get to know him.
Who is John Q. Nones? Here's a snapshot drawn from the Pew Forum's new poll.