religious exercise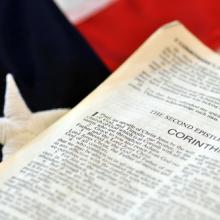 Right now, it's difficult to voice a call for civility surrounding religious debates without backlash that you're stomping on rights or stifling someone's voice. But here's hoping.
Religious freedom. What does it mean, and what were we promised? In Sunday's New York Times, Ross Douthat — columnist and author of Bad Religion: How We Became a Nation of Heretics — points out that we have a guaranteed right not only to religious belief, but to religious exercise. That right to religious exercise, he argues, is violated in cases like the HHS mandate and the Chick-fil-A debacle.
From Douthat's piece:
"If you want to fine Catholic hospitals for following Catholic teaching, or prevent Jewish parents from circumcising their sons, or ban Chick-fil-A in Boston, then don't tell religious people that you respect our freedoms. Say what you really think: that the exercise of our religion threatens all that's good and decent, and that you're going to use the levers of power to bend us to your will."
From here, people tend to go to extremes. On one side: boycott everything whose owner you have a philosophical or religious disagreement with on a personal level. But really do it. Sure it's easy enough to shun fast food, but enough research will likely prove that our American dream to be comfortable far outweighs our attention span. (Please excuse my cynicism, and please let me know if any of you are successful in this endeavor. I'll tip my hat to you.)
Of course, it cuts both ways. Extremism comes in a variety of political preferences, so I'll throw this out there as well: No, there is not a "war on religion" in the United States.