quotidien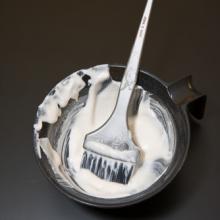 Last Tuesday, after it became clear that Superstorm Sandy was going to bypass Washington, D.C., in favor of New York, I decided to stain the discolored grout in the bathroom.
It appeared that we had a few more hours to stay inside with our batteries and massive food stores—the rains were still torrential, the children were snuggled up under blankets watching a movie, my husband was practicing guitar—so I pulled out the blue painter's tape and the bottle of Grout Refresh (No. 14: Biscuit/Bizcocho) I'd gotten at Lowe's and kneeled down on the hard tile.
Painstakingly, and I am not one who usually takes pains—where do you think my son got his ADHD?—I cut strips of tape to edge either side of the lines of grout, a suggestion offered by a commenter on a home improvement forum. Otherwise, my gut would have been to trowel it on, freestyle, and hope for the best.
Once I managed to tape perhaps a three-foot-square section of the floor—I was too eager to invest the time for the whole space—I spread an old Snoopy toothbrush with the thick ecru paste, and dragged it slowly, evenly, down the lines, holding my breath.
I exhaled when I was done, and waited with expectation. Two hours later, after misting my handiwork with water and waiting another interval, I pulled up the strips of tape to see perfectly neat, unstained, biscuit-colored grout, like you might see in a new bathroom, in a new house somewhere.