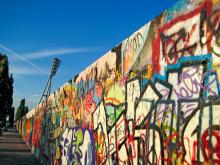 Just over fifty-three years ago, a huge wall was built, a mighty fortress – a wall around East Berlin, a wall to keep out and a wall to keep in. This wall isolated people and forcefully molded them into a single, straight, dreary one-dimensional way of living. The wall represented an oppressive system without cracks, without breaks, without life.
Almost 500 years ago, a monk by the name of Martin Luther felt the pressures of another oppressive system, one in which a person was never sure of God or God's mercy, one in which a person could even pay to climb the stairway to heaven quicker and easier. In many aspects, the church itself had become a fortress, dictating who was in and who was out.  
Every system, every culture, every community risks succumbing to the temptation of shutting borders and protecting an identity. We are quickly seduced into the illusion of absolute control and power. Brick by brick, wall by wall, suspicion by suspicion, power is built, oppression takes hold. We construct an identity, a security, a world. We construct our own way to heaven. (Or is it to a ghetto?)
Who or what can defeat and break the walls, the towers, the fortresses we construct? Who or what can overcome oppression in the land? Where do we turn when creation shakes and societies are in an uproar?