psalm 23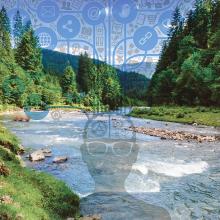 This year, some have given up Facebook for Lent. Others joined the "National Day of Unplugging" on March 7-8, putting away their phones, tablets, and laptops for a 24-hour digital Sabbath designed to slow people down in an increasingly hectic world.
According to the National Day of Unplugging website, people unplugged in order to dance, sleep, write, play, reflect, relax, reset, tune in, chill out, stay sane, and be more connected.
But wait a second — be more connected? That seems odd, since the promise of social media is that it will strengthen connections. Facebook links us instantly to hundreds of friends, family members, co-workers, and neighbors. Twitter enables us to follow people and collect followers of our own. LinkedIn links us to colleagues through an enormous professional network.
Social media seems to be all about connections. But its links have serious limitations.
Psalm 94 is not my psalm, and perhaps it's not yours either. Psalm 8; Psalm 23; Psalm 100. They get a lot of air time because they really speak to us.