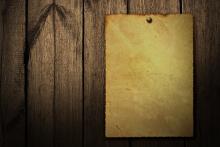 Oct. 31 is approaching quickly — a day marked throughout the United States by costume contests, pumpkin carvings, and children knocking on neighbors' doors with questions of "trick or treat?"
But for Protestant churches around the world, Oct. 31 is also a celebration of a grown man knocking on a (rather large) door, asking a different question of the Catholic Church:
From whom does salvation truly come? And a follow-up: How do we refocus the church on the Gospel?
On this date, almost 500 years ago, Martin Luther hammered his 95 Theses onto the front doors of All Saints' Church in Wittenberg, Germany — an act that, unforeseen by Luther at the time, is now credited with beginning the Protestant Reformation. Luther's 95 Theses outlined his abstentions to the practice of selling indulgences to guarantee Christians salvation, emphasizing that grace is given by God alone and can only be assured by the clergy, not bought from them.
With the help of the social media of his day — the newly-improved printing press — news quickly spread to people throughout Europe that Martin Luther was questioning the papacy and attempting to refocus the church's theology on forgiveness through the word and the eucharist, neither of which required financial prosperity. Within a few years, Martin Luther was excommunicated from the Catholic Church for his continued teachings, which included suggestions that the Bible should be accessible to all people and that priests not necessarily need to be celibate.
The Reformation gathered Christians from across Europe into a community of "rebels," from which multiple denominations would spring up over the next half a century.
Today, 498 years later — with of a Catholic pope nicknamed "The Peoples' Pope," who is on Twitter and preaches about income inequality — what would Luther think of the state of the church?