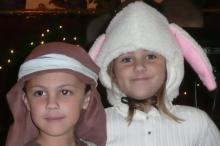 There are many ways to celebrate the coming of the light in this dark season of the year, including the Winter Solstice, Hanukah, Kwanza, and Christmas. Christmas is supposedly a Christian holiday, but the orgy of consumption that accompanies this holiday in the United States makes that questionable. How ironic it is that people celebrate the birth of a poor baby born in a stable (as the story goes) by spending billions on "stuff" that will ultimately end up in overflowing landfills. However, Christian or not, many are swept along by the dominant media message: "Buy gifts for your loved ones to show them how much they are loved and how precious they are." 
The pressure can be hard to resist. 
This may not present a problem for those who practice a Christianity that is conformed to consumer culture, but for those who seek to follow Jesus it challenges us with one of his core teachings: "You cannot serve both God and mammon." Mammon: wealth, riches, money, stuff.