problem of evil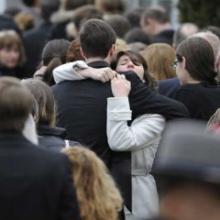 "Oh, God!"
That cry has echoed ever since news of the horrific shooting at Sandy Hook Elementary School in Newtown, Conn.
As the names of those who died are made known, that cry is followed by a question: Why? Why does God allow evil?
This agonizing question arises among religious believers after tragedies great and small. It's also one that priests, pastors, rabbis, and imams will wrestle with.
The Rev. Jerry Smith of St. Bartholomew Episcopal Church in Nashville said that although this weekend marked the third Sunday in Advent, which focuses on hope in advance of Christmas, the church also has to talk about the reality of evil.
"We have to speak about this shooting and we have to recognize, this is the very darkness that Christ came into the world to dispel," Smith told The Tennessean.
The Rev. Neill S. Morgan, pastor of Covenant Presbyterian Church in Sherman, Texas, says on the congregation's website that now is a time for prayer.
But, says Morgan, "all the existential questions about God, justice, and love" will come. "We wonder what we can do to prevent such violence in the world, our nation, and our community."