problem of evil
IN SEMINARY we "wrestled" with the problem of evil. Human evil. Systemic evil. The apparent evil of natural disasters. Drawing lines between the horrors wrought by an earthquake and the tragedy of an air crash caused by a mechanical failure. Tracing human culpability for the famine in Ethiopia. I wrote one dandy paper on the failure of process theology to deal adequately with the problem of evil. All at arm's length, in the relative comfort of a "starving student's" life.
It's funny, in a way, that even though I already had worked for years with abused and neglected kids, their experience of evil rarely entered my college musings, at least not in any significant or sustained way. ... Guess what? This girl [an abuse survivor] doesn't want my "problem of evil" package. Some do, you know. Some of the kids I've worked with will ask, "Where was God when I was being abused?" because they want desperately to hear that God was in the picture somewhere. Anywhere. ...
One thing is sure: I can't "comfort" her into a faith in God. I can't hope to find some new and dynamic arrow in the theological quiver that will penetrate the armor of her anger and disillusionment. I can't hope to find some new stuff to put into those old packages. In fact, I have to fight every urge to tamper with my packages, and instead learn to leave them up on the shelf, where, for the most part, they belong.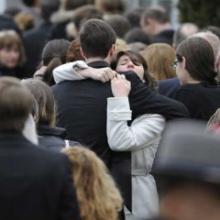 "Oh, God!"
That cry has echoed ever since news of the horrific shooting at Sandy Hook Elementary School in Newtown, Conn.
As the names of those who died are made known, that cry is followed by a question: Why? Why does God allow evil?
This agonizing question arises among religious believers after tragedies great and small. It's also one that priests, pastors, rabbis, and imams will wrestle with.
The Rev. Jerry Smith of St. Bartholomew Episcopal Church in Nashville said that although this weekend marked the third Sunday in Advent, which focuses on hope in advance of Christmas, the church also has to talk about the reality of evil.
"We have to speak about this shooting and we have to recognize, this is the very darkness that Christ came into the world to dispel," Smith told The Tennessean.
The Rev. Neill S. Morgan, pastor of Covenant Presbyterian Church in Sherman, Texas, says on the congregation's website that now is a time for prayer.
But, says Morgan, "all the existential questions about God, justice, and love" will come. "We wonder what we can do to prevent such violence in the world, our nation, and our community."