power of yes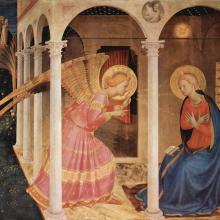 To be a people marked by the faith of Mary is to be a people, who say, "Ok, I don't understand what's going on and I know that my life isn't going to end up looking like one I would choose out of a catalogue but I trust that God is at work in all of it."
Blessedness is being used for God's purpose more than it's getting what I want or things being easy.
Christmas itself isn't about getting what you want, or making sure you're giving others what they want. To experience Christmas is to trust that God can do this thing again. God can again be born in me, in you, in this broken mess of a gorgeous world.
In the 4th century St. Gregory of Nyssa wrote, "What was achieved in the body of Mary will happen in the soul of everyone who receives the Word."
See, God is at work in you in much the same way God was at work in Mary. (Not necessarily in that the Holy Spirit's going to knock you up.) But I do think that you carry in your body the blessing of God and having faith like Mary means allowing yourself to trust that.