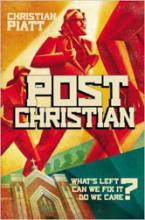 Anyone who has been paying attention knows that Christianity is in decline in the western world by all accounts. From progressive mainline churches to evangelical mega-churches, most institutional religious bodies are experiencing precipitous drops in attendance and giving. Meanwhile, the Christian voice in the civil and political conversations is also giving way to other perspectives, be they Jewish, Muslim, or secular humanist. It's no longer a dark mark on one's social character to say they don't go to church, or even that they're not a Christian.
For many leaders within organized Christian circles, this is all a call to arms, a warning shot across the proverbial bow to wake us up from our slumber and engage the impinging culture war with renewed commitment.
But as I suggest in my new book, postChristian: What's Left? Can we fix it? Do we care? It's actually good news. Granted, it may not slow the decline and closure of churches anytime soon, and we Christians will likely continue to lose some degree of political clout, but I argue that this isn't the point. It never was. And in fact, our numerical, political and even financial success in recent generations has taken us far off track.