pope's resignation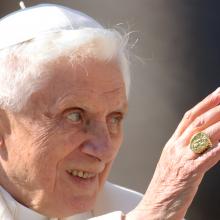 VATICAN CITY — The papacy of Benedict XVI came to a quiet end at 8 p.m. on Thursday, making him the first pope in 600 years to voluntarily leave office.
While there was no formal ceremony to mark the historic passage, the end of Benedict's papacy and the beginning of the "sede vacante" interim period was clear when the Swiss Guards left their post at the gate of the papal summer residence in Castel Gandolfo.
The Swiss Guards are charged with protecting the pope. When Benedict ceased to be pope, his security was no longer in their hands. At the Vatican, officials sealed the pope's apartment as prescribed by church law, and will destroy the pope's ring and official seal in the coming days.