pope francis I
Pope Francis on Friday met with Pope Tawadros II, head of Egypt's Coptic Orthodox Church, an encounter that brought the number of popes within the Vatican walls to three this week.
Benedict XVI, the emeritus pope, returned to the Vatican on May 2, two months after his resignation, while Tawadros is only the second Coptic pope to visit the Vatican, after the historic visit of Pope Shenouda III to Pope Paul VI in 1973.
Tawadros — on his first foreign trip since he was elected in November — is staying at the Vatican's guesthouse where Pope Francis is also living. Benedict is now living in a revamped convent a 5-minute walk away, but there were no plans for the two men to meet.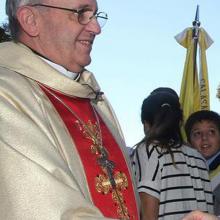 Argentinian Cardinal Jorge Mario Bergoglio was elected as Pope Francis I on Wednesday, after only two days of voting in the conclave tasked with choosing a successor to Pope Benedict XVI.
According to anonymous reports of the 2005 conclave, he was the leading contender against then-Cardinal Joseph Ratzinger, who became Benedict XVI. Bergoglio, 76, has served as the archbishop of Buenos Aires since 1998 and was made a cardinal in 2001. He is the first Latin American and the first Jesuit to rise to the papacy.
In his first address to the huge crowd that had gathered in St Peter's Square, Francis asked for the prayers of "all men and women of good will" to help him lead the Catholic Church.