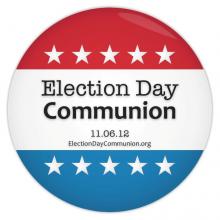 Tuesday, Nov. 6, is Election Day. As we've seen these past months, in a closely divided country, elections bring out the worst in us. Hundreds of millions of dollars in negative advertising, families and churches divided, each side convinced that a victory by the other side will be disastrous for the country. 
It is clear that Christians will vote in different ways  — some for Barack Obama, some for Mitt Romney, some for another candidate, and some will not vote. But Tuesday evening, Christians in more than 800 congregations will be gathering together for communion, regardless of party, political affiliation, or denomination.
The Election Day Communion campaign is the vision of several pastors to build unity in Christ in the midst of theological, political, and denominational differences. In sharing communion together, the Campaign says, Christians can reaffirm our allegiance to Christ and remember some basic truths.