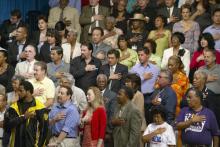 Reading religion surveys can seem like confronting the Tower of Babel: stacked questions, confusing terms, unscientific methodology.
It gets even crazier when results are contradictory. How does that happen?
Some surveys lean like the Tower of Pisa
The Pledge of Allegiance is a perfect example.
There's almost always a flap over how many Americans do — or don't — want the words "under God" kicked out of the Pledge of Allegiance. Indeed, on Nov. 19 a court in Monmouth, N.J., will hear the case of the American Humanist Association battling the Matawan-Aberdeen Regional School District to have schools edit out mention of God.
The humanists claim 34 percent of Americans agree with their view. But, wait. What about a survey conducted earlier this year by LifeWay Research, a Christian research agency? It found that only 8 percent would cut God from the Pledge.
Why four times the difference? Look to the poll language.
LifeWay asked: "Should the words 'under God' be removed from or remain in the Pledge of Allegiance to the United States of America?" That's a straight-up question with no preface.
The humanists' survey, however, began with a bit of pointed Pledge history — before getting to the (loaded) question:
"For its first 62 years, the Pledge of Allegiance did not include the phrase 'under God.' During the Cold War, in 1954, the phrase 'one nation, indivisible … ' was changed to read 'one nation, under God, indivisible … '. Some people feel this phrase in our national pledge should focus on unity rather than religion.