Patriot's Day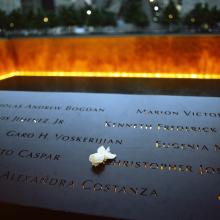 It's been 14 years since our government declared war on terrorism. How are we doing? It feels like a disastrous game of Whack-A-Terrorist, doesn't it? We kill one terrorist hiding in one hole, and out pops another one from another hole. Now we are facing the newest threat, a terrorist organization seeking to set up a nation-state, ISIS or IS, as its leadership prefers to be called. The Islamic State, at least, would be a concrete opponent. If they hold on to territory and establish a functioning government, we could at least declare war on a tangible target. Though regrettable it would at least make sense within the logic of war in which states fight other states.
In a recent article for Patheos.com, David French uses Christian Scripture as a justification for "responding to ISIS with wrath and vengeance." French is a lawyer, a captain in the U.S. Army Reserve and senior counsel at the American Center for Law and Justice. He claims that, according to the Apostle Paul's letter to the Romans, while individuals are called upon to love their enemies, there is no such call placed on governments. In fact, God has instituted governmental authority in order to execute his wrath against evildoers. And apparently, or so Romans 13 puts it according to French, to know who the evildoers are one simply needs to look at who governments are punishing. French quotes the relevant passage, Romans 13:3-5:
For rulers hold no terror for those who do right, but for those who do wrong. Do you want to be free from fear of the one in authority? Then do what is right and you will be commended. For the one in authority is God's servant for your good. But if you do wrong, be afraid, for rulers do not bear the sword for no reason. They are God's servants, agents of wrath to bring punishment on the wrongdoer. [Emphasis added by French.]
French concludes that American Christians should have no difficulty determining the correct response to ISIS. Why? By the fact of determining that justice must be executed against ISIS, our government has determined that their violence is not only an offense against American citizens (he names the beheading victims, journalists James Foley and Steven Sotloff) but against God himself.
French's analysis strains credulity. Doesn't he realize that the Romans to whom Paul was writing were themselves victims of government persecution? Does he think that these persecuted Christians felt they were being justly punished? And what about Paul himself, a Roman citizen who was persecuted and executed by the Roman government? Doesn't French realize that by his own argument, the Roman authorities were executing God's judgment against Paul? And by his own analysis, French is a captain in a military force that is from its origins a justifiable target for God's wrath. Why? Because the founding act of the United States was a rebellion against a government, and "whoever resists authority resists what God has appointed, and those who resist will incur judgment." (Romans 13:2)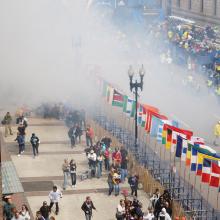 What do you say in the face of evil?
The stories from Monday's attacks at the Boston Marathon are heartbreaking, gut-wrenching. One in particular stands out to me. A woman was waiting for her husband to cross the finish line when the bombs exploded. For three hours she searched frantically for him, not knowing if he was alive or dead, not knowing if he was frantic and looking for her. Her voice cracked and tears flowed with the raw memory as she told of the moment when she and her husband embraced.
Moments like this, even when they end happily, remind us of our vulnerability. As hard as we try to protect ourselves with heightened security measures, we know that complete invulnerability is impossible. I am vulnerable. My wife is vulnerable. My children are vulnerable. We cannot escape it.
In the face of gun violence and bombings, gender violence and rape, we would be irresponsible not to ask big questions about evil and human vulnerability.
A few hours after the bombing, President Barack Obama addressed our natural desire to carry out justice after these events.
[M]ake no mistake; we will get to the bottom of this. We will find out who did this, we will find out why they did this. Any responsible individuals, any responsible groups, will feel the full weight of justice.
Like the president, I want to take action against evil and I want to know I am secure. I hate admitting that I'm vulnerable. But the president's words didn't reassure me. They made me feel more vulnerable because the phrase "full weight of justice" is always a veiled call to violence.