passport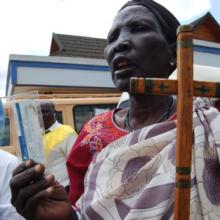 For Christians living in predominantly Muslim Sudan, travel restrictions are making life more difficult each day, a Roman Catholic cardinal said.
Sudanese Cardinal Gabriel Zubeir Wako highlighted the challenges at a Catholic Bishops Conference in Juba, the Republic of South Sudan's capital. His auxiliary bishop could not attend the Jan. 21-30 meeting because his passport was seized by security agents, along with those of eight priests.
"Christians in the two countries are facing difficulties," Wako told the gathering. "We [bishops] must focus on serious matters and come up with strong messages."
A federal appeals court has ruled unconstitutional a 2002 law that allows Americans born in Jerusalem to designate Israel as their birth country on their passports.
The lawsuit, brought by an American couple whose American son was born in Israel in 2002, challenged the government to uphold the law. Instead the court found it unconstitutional.
The State Department has not permitted Americans born in the city to list "Israel" as their birthplace on their passports, despite the law.