Oak Park Wisconsin
Few can know what goes through the twisted mind of a mass killer, but Wade Michael Page left behind plenty of signs that he was consumed by one thing: hate.
Page, 40, was identified by police Monday as the gunman who killed six worshippers Sunday morning at a Sikh temple here. Local and federal authorities said they were investigating whether the shooting was an act of domestic terrorism.
The bald, heavy man decorated in tattoos and shot dead in an exchange with police played in hate bands and used hate-filled heavy-metal music to recruit white supremacists to the cause.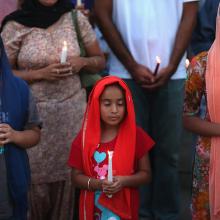 First, there were the cryptic news bulletins on TV. There had been a shooting at a Sikh temple in a Milwaukee suburb called Oak Creek. Then the details began to emerge. Six people were dead, others critically wounded, including a police officer. The shooter, who had a long history with the white power movement, was shot dead by another police officer, bringing the toll to seven.

And all around Wisconsin, people watched in horror as we learned of yet another mass murder, this one in our backyard, this one shattering the tranquility of a Sunday morning worship service.
There are not a lot of Sikhs in Wisconsin – about 3,000 in the southeastern part of the state, perhaps 250 or so in the Madison area where I live. Yet people everywhere shared the horror and the sadness of that moment.
In the Milwaukee area, a group called the Light Brigade — which had held up illuminated letters with political slogans during the effort to recall Gov. Scott Walker earlier this year — stood in Cathedral Square with a simple, powerful message in lights: "Wisconsin Weeps."