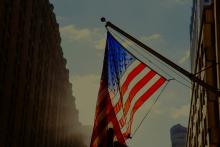 My friends and colleagues are generally aware that before I began working at Sojourners, I was a patent examiner at the U.S. Patent and Trademark Office (USPTO) for six and a half years. What most of them do not know, however, is that I interviewed for that job — a five-minute drive from the Pentagon — on September 11, 2001.
Early that morning, I decided to take the Metro rather than drive to the USPTO's offices in Crystal City, Va. I reasoned that if I got the job, I would want to get some idea about my future daily commute. This would prove to be a fortunate decision later on.
Even before the end of my trip to Crystal City, I had already heard news of the first World Trade Center tower being hit. When I arrived at the office, I hoped the interviewer would remember me after our conversation. He did — but considering the significance of all that happened that day, my concerns about employment now seem minuscule in hindsight.