nicene creed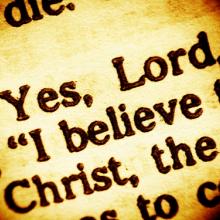 I am part of a liturgically worshiping tradition. There are days I wish I wasn't; days when our Kyrie is lacking splendor and our Eleison feels redundant; moments that I wish we could get to the important stuff — my inspired and infallible message (I kid) — and toss the unending Psalm or Prayers of the Church.
And then there are the other times, when I am guiltily reminded that cutting the creed means missing out on the same words spoken by millions of believers before me. Or when the music just all works and my heart is stirred by the Hallelu– (shhh, its Lent) Chorus.
So I like to remind my community of believers from time to time why we do what we do. I have long felt the risk of liturgy is that it becomes rote narration, a thoughtless speechifying of sorts. So that this might be avoided, here are my thoughts on the creeds and why a corporate confession of faith is still valuable today.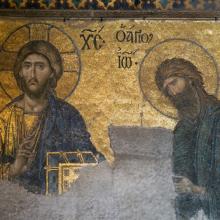 A "creed" is an authoritative expression of belief, and within many religious communities, such statements generally emphasize a core affirmation of faith.
In addition to articulating primary convictions, creeds are used to oppose alleged falsehoods. For example, the Nicene Creed, composed in the fourth century, is a Christian proclamation that – among other things – affirmed the divine nature of Jesus, and was thus directed against those who believed otherwise. The Apostle's Creed, developed in the first or second century, emphasized the humanity of Jesus, as some groups rejected such notions. While the history of Christianity is filled with numerous creeds, the Apostle's Creed and Nicene Creed continue to serve as primary declarations of faith for millions of Christians around the world.
...
The following is my attempt to draft a contextual creed. In it I sought to stay within the Trinitarian formula, I stayed within the self-imposed length restrictions (it contains 164 words!), my draft has developed over the course of time, and because I fully acknowledge its many shortcomings and limitations, I will surely alter it may times into the future: