Need to Know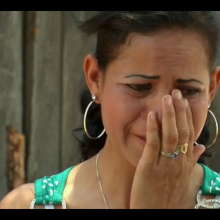 What would you do if you were offering a voluntary service, like medical or pastoral care to a vulnerable population, and the clients repeatedly spoke of abuses by a specific perpetrator? You would be a "mandated reporter," which for the caring professions means you must report certain cases of abuse to authorities. But then you find out that federal employees—law enforcement, in fact—are committing the atrocities. How do you call the cops on the cops?
This was my dilemma as I started working on the Mexico-side of the Sonora-Arizona border washing blistered feet and bandaging wounds of migrants who were just repatriated back to Mexico.
We set up the Nogales Migrant Aid Station to provide basic care to upwards of 1,200 deported people each day. But we did not expect that human rights documentation would become the most pressing part of that work. With each Homeland Security busload of migrants being released from Border Patrol custody, we listened and then documented case after case of abuse.
The abuse involved cussing and yelling, being pushed into barbed wire fencing, sexual assault, denial of life-saving medical care, denial of adequate food and water to children and the list continues.