multisite churches
The vast majority of multisite churches are growing, according to a new study, and they are seeing more involvement from lay people and newcomers after they open an additional location.
Nearly one in 10 U.S. Protestants attends a congregation with multiple campuses, according to findings released Tuesday in the "Leadership Network/Generis Multisite Church Scorecard."
The report cites new data from the National Congregations Study, which found there were 8,000 multisite churches in the U.S. in 2012 — up from 5,000 in 2010 — including churches with more than one gathering on the same campus. Churches that have created worship space in a separate setting now exist in almost every state, several Canadian provinces, and dozens of other countries.
Multisite churches typically operate with a main campus headed by the senior minister and one or more satellite locations. In some settings, attendees at the satellite location watch the same sermon that's beamed in from the central location but have their own dedicated on-site pastor, music, or small group meetings.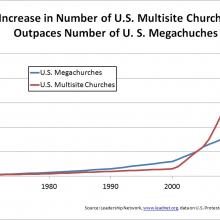 The number of congregations that host worship services at more than one physical location has grown to more than 5,000 in the last decade, according to a new report.
Researchers say these "multisite" churches, which may share worshippers across town or many miles apart, are growing at a much larger pace than traditional megachurches.
Without the burden of additional expensive buildings, congregations find they grow faster in new places, said Warren Bird, research director of Leadership Network, who announced his conclusions on Tuesday.
"It's a combination of both evangelism and saying, `People may not come to this particular building. How can we take where we are to where they are?'" he told Religion News Service.