moment of silence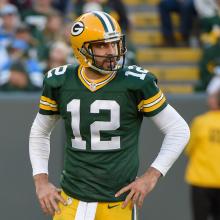 Teams around the NFL paid tribute to those who lost their lives in the terrorist attacks in France last week with a moment of silence before Sunday's games.
At Lambeau Field, before the Green Bay Packers lost to the Detroit Lions 18-16, a fan shouted out a slur against Muslims during the moment of silence.
That did not sit well with Green Bay quarterback Aaron Rodgers, who called out the fan in his postgame comments.
President Obama and First Lady Michelle Obama spent Sunday, the 10th anniversary of the 2001 terrorist attacks on the United States, by visiting each of the attack sites in New York City, Washington,