models of the church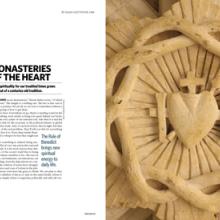 A vibrant spirituality for our troubled times grows out of a centuries-old tradition.
In his seminal 1974 book Models of the Church, theologian Avery Dulles offered five paradigms, or "models," each of which called attention to certain aspects of the worldwide Christian church. The church, Dulles wrote, is in essence a mystery -- a reality of which we cannot speak directly. Thus we must draw on analogies to understand the church in deeper ways.
Dulles developed five models, drawing on a range of theological schools and traditions, both Protestant and Catholic, to illuminate different aspects of the church. His models included church as institution, mystical communion, sacrament, herald, and servant. Dulles was careful to point out that no single model, by itself, adequately paints a complete picture of the church; each contains important insights about the nature of the church.