mission year
One of the most gaping absences in church community often is a point of entry or transition for young adults. We do great with kids, and of course most congregations pant after the coveted "parents with kids" demographic. But what about after high school? How do we serve young adults as they transition to independence for the first time? How do we help them navigate the complexities of adult life, while helping forge in them a sense of character and mission informed by the Christian faith?
One organization taking on these difficult challenges in real, transformative ways is Mission Year. I sat down with Shawn Casselberry, Executive Director of Mission Year, to find out more about how they empower young adults to live out their values in the context of church, community, and even daily life.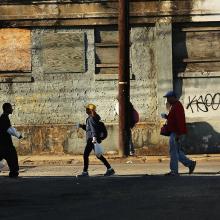 I recently heard that the state of New Jersey plans to evict the Camden Children's Garden from its 14-year-old home.
I don't know if you know much about Camden, N.J., but it's one of the cities in our country that wrestles with a myriad of social issues. There are a number of incredible people there that work tirelessly to improve the living and social conditions. Mission Year has spent a number of years living and working beside neighbors and friends in this city. The people there are very committed to things like improving housing, education, and tackling food desert issues, and they have very little resources with which to work.