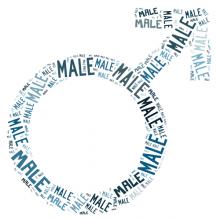 Growing up, I looked to my dad as the quintessential definition of what a man was. He was pretty quiet but prone to anger. He worked crazy hours as the primary provider in the house, but still made time to build things nearly every weekend around the house. He had tons of tools, knew everything about everything and was never, ever wrong.
Some of what he was to me was passed along; most of it didn't stick. And for that, I was pretty sure there was something wrong with me. Maybe I was gay. Could be that I just missed out on some critical "male gene" that made me want to work with tools and amass an encyclopedic knowledge about sports. I mean, I liked baking with my nana, and when I stayed over at their house for the weekend, sometimes I'd even paint my nails with her polish. I also went golfing and fishing with granddad, but I'd rather draw or play music than help my dad rebuild the retaining wall around the porch.
Must be something wrong with me.