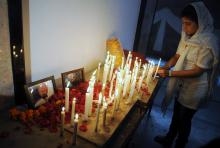 I wasn't sure what to expect as we pulled into the parking lot of a local Sikh temple — or gurudwara— last night, but I assumed it would be culturally enlightening and offer a glimpse into a worldview and religious tradition I have only sparingly engaged. While yesterday was the National Day of Remembrance and Solidarity for the victims and mourners of the shooting in Wisconsin, I felt deeply compelled to stand with them in their pain as a follower of the Prince of Peace. 
Walking into the gurudwara's courtyard holding my two-year-old daughter's hand, my wife and two friends were immediately greeted by the priest with a handshake and smile. He thanked us for coming and invited us into the experience that included a short service in the gurudwara and vigil outside to remember the six worshipers who were shot by a man that had never met them. I can only speculate, but if this man would have engaged these people on a relational level at any point, he certainly would have reconsidered his actions.  
Much like the response of the Amish after the horrific schoolhouse massacre in 2006, the Sikh community has intentionally chosen to respond to by offering radical love and forgiveness. Although somber, they carried a deep conviction to embrace the way of peace as retaliation for the death of these innocent victims.