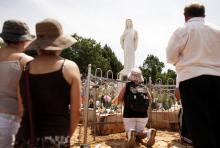 To Roman Catholic officialdom, it's unclear whether the Virgin Mary appeared to Ivan Dragicevic and five others 34 years ago in a Bosnian village.
What is clear is that Dragicevic won't be appearing Wednesday to speak in St. Charles, as some had hoped.
Earlier this month, Archbishop Robert Carlson addressed a memo to priests and deacons in the archdiocese:
"I have received a request from the Congregation for the Doctrine of the Faith to remind everyone that they are not to participate in events that promote the so-called visionaries of Medjugorje and in particular Mr. Ivan Dragicevic."
Prior to the March 3 memo, Dragicevic had been scheduled to speak in St. Charles' Lindenwood University, about 25 miles from St. Louis.
Dragicevic is one of six who claim the Virgin Mary appeared and spoke to him in 1981 in Medjugorje, a town situated in the Herzegovina region of Bosnia.