medal of honor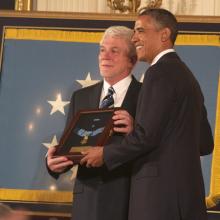 A candidate for sainthood in the Roman Catholic Church was posthumously awarded the Medal of Honor by President Obama Thursday at the White House.
The Rev. Emil Kapaun, a priest who served as an Army chaplain in the Korean War, was recognized for his bravery on the battlefield and in a prisoner-of-war camp.
During battles, Kapaun would run into enemy fire to save wounded Americans or comfort the dying. When he was captured and taken to a prisoner-of-war camp, he defied the guards in order to care for other soldiers, physically and spiritually, until he died in 1951.
Now, let me see if I have this right. Real men kill, maim, and inflict destruction. Saving lives and rescuing those in harm's way is, well, feminine.