Mayan Calendar
For a child has been born for us,
a son given to us;
authority rests upon his shoulders;
and he is named
Wonderful Counsellor, Mighty God,
Everlasting Father, Prince of Peace.
~ Isaiah 9:6
On the flight home from Connecticut, where we'd buried my beloved father a few days before Thanksgiving, I watched the film Seeking a Friend for the End of the World and dissolved into a wailing heap of tears and snot.
The premise of the uneven dramedy starring Steve Carell and Keira Knightley is this: An massive asteroid named Matlilda is on a collision course with planet Earth and in three weeks' time, the world will come to an end. The main characters and others decide how – and with whom – they want to spend the last days of their lives.
Given recent events, this led to some soul searching on my part. If I had three weeks to live, what would I do? Where would I go? Who would I want to make sure I saw? With whom would I want to share my last breaths?
For most of my life the answer has been the same: I'd want to be with my family and, in particular, with my father.
Which is why I ended up bawling my eyes out for the last 90 minutes of the flight home to Los Angeles, much to the dismay of the fellow in the middle seat next to me.

If I had three weeks to live today, I wouldn't be able to spend any of those moments with Daddy.
He's in the More, now. On the other side of the veil. In Heaven. Resting in peace. With Jesus.
And I will have to wait until my earthly life ends to see him again face-to-face.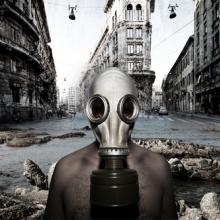 The world has never been short on doomsday prophets, intent on predicting the end of days. And it has reached fetishist proportions this year with the end of the Mayan calendar.
See, that's why I never buy paper calendars. They always end, and I don't want to be the one responsible for Armageddon.
But the Mayans and their Johnny-come-lately adherents aren't the only ones. Harold Camping has predicted the end a few times, most of which haven't worked out so well. But each time he adds a little footnote as to why he was a little off, but that the next prediction REALLY is the big one, so be ready.
I'm not entirely sure why we're so obsessed with trying to know when everything will come to a grinding halt. Christians in particular have been warned by Jesus himself not to occupy our hearts and minds with such things. So how come we can't seem to stop trying to figure it out?