masculine God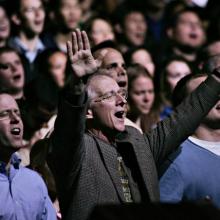 I really want to give people like John Piper the benefit of the doubt. Given that he's a minister in the Baptist tradition, it doesn't surprise me when he only refers to God as "he" or when he talks about the man's role as spiritual head of the household. I grew up Baptist, so I've heard it all before.
But he goes too far with it. Way too far. And given the breadth of his influence, his message serves to normalize the marginalization of half (slightly more than, in fact) the world's population. While I expect he believes he is fulfilling a divine call in sharing his message, I believe I'm serving a similar call in holding him to account.
Piper, recently keynoted a conference called "God, Manhood and Ministry: Building Men for the Body of Christ." On first blush, this sound both exciting and very necessary. Men are leaving organized religion in droves, and in many cases, they are walking away from their families as well. I agree wholeheartedly that today's man needs some clarity, support and guidance in how to exhibit Christ-like traits of strength, conviction, love and dedication both in the home and in communities of faith.
None of this, however, requires the relegation of women to a second-tier role, which is precisely what Piper seems to be doing.