Mars Hill Church (Minnesota)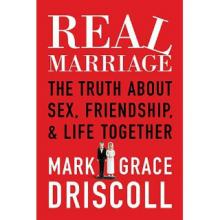 HE SAID: David Vanderveen
Real marriages develop from two people who are committed to making them work. The specifics of how two real people make one real marriage work is largely irrelevant given the freedom we have in Christ. Marriage is supposed to be a symbol of our relationship with God on earth.
We don't need more multiple choice tests and true-and-false quizzes with black-and-white answers to bring heaven to earth; we need to put the love of the other first — with God at the core — to make our marriages work.
SHE SAID: Sarah Vanderveen
Real Marriage is a poorly written, poorly researched book by a well-meaning pastor who I believe is struggling with his own sexuality and sense of self-worth. I don't know how else to explain his weirdly inappropriate fixation on masculinity and specific sexual practices, and his failure to address the complexity of human sexuality and relationships.
It feels to me like he doesn't really want to understand the whole person, rather he just wants to cut straight to the salacious tidbits. I realize that's how you sell a lot of books, but still. I get the distinct impression that Driscoll is not a man at peace.